I had started doing photography more seriously at the end of 2016, and January felt fresh and full of possibility. I was booking small family photography gigs, got a new lens, and was learning so much. But there were also moments when I felt like I was in over my head (which sometimes I was), and after one particularly humbling experience, I went home and made cake. Because before being a photographer, I'm a home cook and there's something reassuring about mixing flour and sugar and getting the result you've gotten dozens of times before.
I made Orangette's lemon yogurt and almond cake and added a bit of rosewater.
SONG: Mazzy Star - Fade Into You.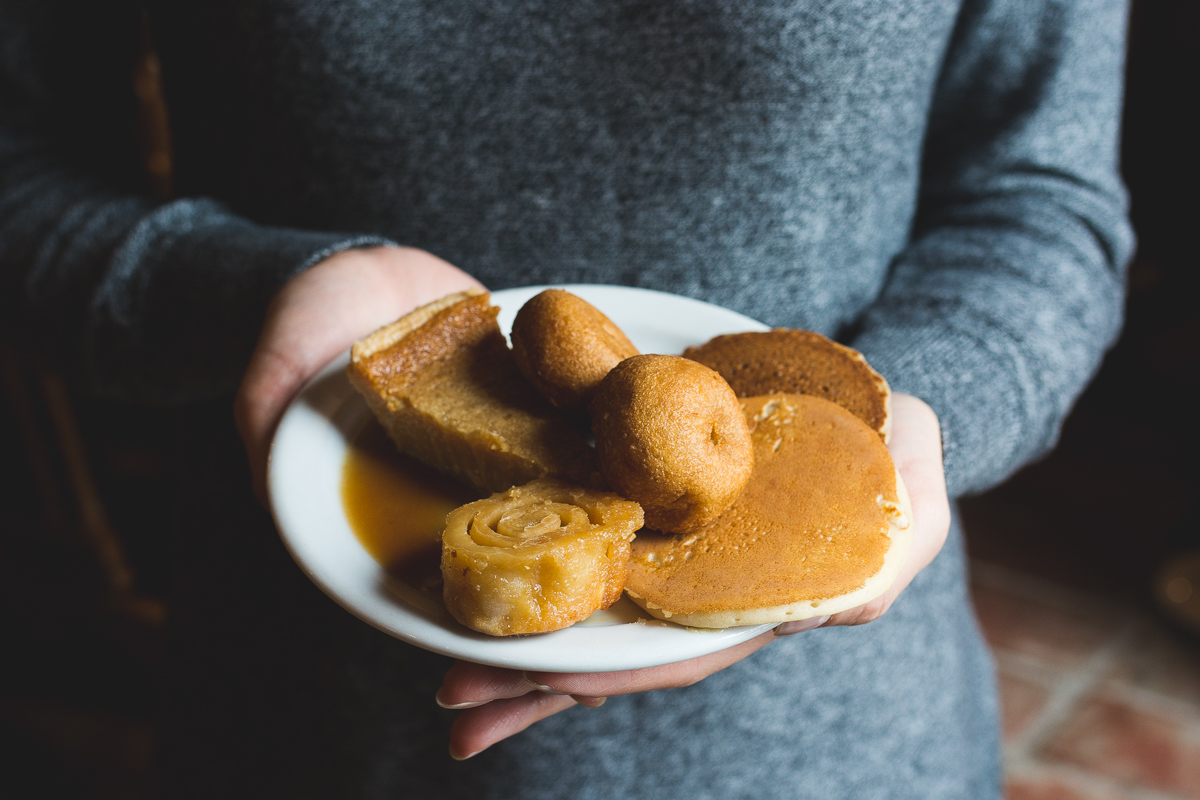 February has always been kind of a lean month for me, the push before warmer weather pulls you in. My sister visited from Toronto and we had what felt like a dream sequence of a trip to l'Estrie.
We visited this little farm I love and bought pastel-hued heirloom eggs, petting some alpacas as we left. We went to a cabane à sucre and savoured the amber sweetness of good maple syrup. We walked down rows of barren apple trees at sunset, right before it rained.
It was the perfect calm before the storm.
March was a month of extremes. I poured sand all over my living room floor and did my first commercial shoot for a line of sunscreens. What started as a fun collaboration with a local company has now become a regular gig.
Within 24 hours of that shoot, I was back in the West Coast for work. The week that followed was one of the toughest professionally and personally. And while on a hike where my group got dangerously lost and found ourselves on the precipice of a cliff, I felt the assurance that I was going to make it out of this alive.
When I landed in Montréal, I was immediately surrounded by people who made sure that that was exactly what was going to happen.
April saw my apartment empty bit by bit as my former life moved out, but friends quickly took the place of the things that I had accumulated over the past 8 years.
One weekend, friends who are like my family came for a girls' sleepover. We watched movies, ordered Chinese take-out, and the next morning I made these lemon poppyseed pancakes with Meyer lemon curd and coconut whipped cream. Life went on.
SONG - Lo-Fang - When We're Fire
I love how Montréal comes alive in May. The winter is long, but there's an infectious energy about the warmer weather. I started cooking more regularly again, and one of my favourite things were Smitten Kitchen's granola bars. I must've made them at least 2 or 3 times that month, giving them away to coworkers and friends each time.
May truly felt like a month of celebration, and at the end of it, I took myself out for a nice meal. Sitting on a terrace under string lights, I celebrated what would've been my anniversary with my old life and I toasted myself on surviving the past few months. And while walking home in the balmy late May evening, my belly fully of food and my veins full of a multi-course wine pairing and then some, I decided to go to Italy that fall.
SONG: Laura Marling - I Was an Eagle